Skype for Business is a tool that has been around for a very long time.
Skype has been used by the majority of small businesses as well as individuals for the past 15 years. Has its reign come to an end or is it still a viable option for your business moving forward?
I want to take you through how to get Skype, how to get Skype for free, how you can utilise Skype, Should you be looking at alternatives to Skype such as Teams or Zoom and much more.
What is Skype?
Skype is software that enables the world's conversations. Millions of individuals and businesses use Skype to make free video and voice one-to-one and group calls, send instant messages and share files with other people on Skype. You can use Skype on whatever works best for you – on your mobile, computer or tablet.
Skype is free to download and easy to use.
If you pay a little, you can do more – like call phones and send SMS. You can pay as you go or buy a subscription, whatever works for you. And in the world of business, this means you can bring your entire ecosystem of workers, partners and customers together to get things done.
They won't be hard to find; hundreds of millions of people are already using Skype to do all sorts of things together.
How does Skype work?
Video telephony — or video calls — has been around since the 1960s, but it was too cumbersome and expensive for the general public to use until very recently. Improvements in video technology, as well as the wide availability of high-speed internet, have made video chat and video calls accessible and affordable for just about anybody. Although it's not the only service available, Skype is one of the most popular video call services. You don't need a lot of equipment and the software is user-friendly, enabling you to make video calls within minutes of downloading it.
If the person you want to talk to also has Skype, it's free to use the service (minus the cost of your Internet connection, of course). There is a fee if you're calling a regular landline or cell phone, and there's also a cost associated with some of the more advanced services. In addition to video and voice calls, you can also hold teleconferences, instant message, share files of all kinds, text and make low-cost international calls using a special cell phone program called Skype to Go. Skype is different from other VoIP (Voice over Internet Protocol) providers because it is a peer-to-peer service. This means that the program distributes the running workload across Skype users' computers via background processing, instead of running off a traditional server. It's part of why Skype is so inexpensive.
The company was founded in 2003 and operates out of Luxembourg. Up until recently, Skype was owned by an investment group that had eBay as its biggest holder; in May 2011, the company was acquired by Microsoft. In 2010, Skype had more than 600 million users worldwide.
Is Skype for Business Free?
Now there are two Skypes for online videoconferencing: the free, consumer version most of us know, and Skype for Business. This rebranded, redesigned Microsoft Lync takes the look and feel of the consumer Skype we all know and applies it to the enterprise.
Skype for Business pricing is included in Microsoft Office 365's suite of products. It offers three plans: Business Essentials ($3/user/month), Business ($10/user/month), and Business Premium ($10/user/month). The main differences between the plans include email hosting and access to premium features such as online meetings hosting and video conferencing.
Plans
Monthly Pricing
($/User/Month)
Annual Pricing*
($/User/Month)
Business Essentials
$3
$2.50
Business
$10
$8.25
Business Premium
$10
$10
Is there a Difference between Skype and Skype for Business?
Even though the two applications often appear virtually identical now, they are different—and not just because Skype for Business, like Lync before it, costs money. Skype for Business offers capacity and productivity advantages geared for businesses that are big—or that want to look big. For a business with any of the following needs, graduating from free Skype to Skype for Business provides a worthwhile return on investment.
1. You want to have very large meetings
The standard Skype client is currently limited to 25 people on a conference call at once. Skype for Business raises this limit to 250, making it much more suitable for large-scale presentations like all-hands meetings or live webinars. Participants in either Skype or Skype for Business meetings need not be using a Skype client to join the meeting–both services support calls from landlines and standard mobile phones–but extra fees still apply for dial-in users.
2. You want to integrate easily with Office apps
One big draw of Skype for Business is how it's being integrated into Office 365. Essentially this means you'll be able to use Outlook directly with Skype for Business's IM, voice, and video features, clicking directly on a contact to initiate a conversation with them or schedule a meeting for later. Outlook will also archive your Skype for Business meeting history with each contact. Other Office 365 apps get in on the action, too. Want to collaborate on a PowerPoint presentation or Excel spreadsheet on the fly? You'll be able to initiate a conference and share your screen without having to leave the program.
3. Security and permissions are a concern
Though it doesn't mean your VoIP calls are bulletproof against eavesdroppers, all Skype traffic (both standard and Skype for Business) is encrypted with AES. Skype for Business raises the stakes with stronger authentication methods that give you, as the administrator, stronger control over accounts and access to the who can do what with the tool. Subscriptions can be added and removed at the user level, with different program features assignable to each user on the service.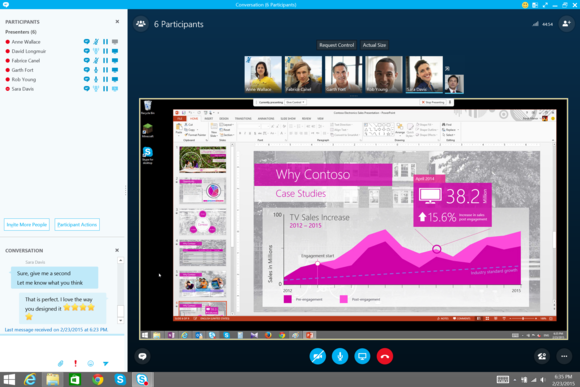 4. You want a sophisticated conference room setup
To set up a snazzy dedicated videoconferencing room so, say, two satellite offices can communicate over video with each other, Skype for Business is a much better bet. Lync was built with these types of setups in mind, and the new Skype Room Systems will let you use Skype with standalone cameras and monitors, audio gear from Polycom, and the Microsoft Surface Hub for online whiteboarding via ink or touch. Existing Lync Room Systems can be upgraded to Skype Room Systems. Skype for Business will also be able to integrate with a number of enterprise-class PBX systems, letting you route calls more easily over VOIP using your existing phones.
How do you get Skype for Business?
You must have administrator access to install this application.
Before downloading, search to see if Skype for Business is already installed. If it is not:
Click the Install Office button and select Other Install Options.
Click Apps & devices and then click the Install Skype button
Skype for Business vs. Teams
Why the debate for Skype for Business vs Teams?
I know this is going to elicit some debate among readers, and that's okay. After all, we're comparing a product that has been around in various forms for more than eighteen years (Skype for Business (SfB0) is the latest iteration of what started as a messaging tool built into Exchange 2000) to one that's not even been here for two yet. Teams launched into public preview on 2nd November 2016, then four-and-a-half months later, the platform became generally available on the 14th March 2017.
Skype for Business
Skype for Business (and Lync) has a very loyal fanbase of users and IT professionals globally. The instant messaging client has three main pillars of use: messaging, meetings and voice.
Two Editions of Skype for Business
There are two editions of Skype for Business. Server and Online.
Skype for Business Server is the one you install on-premises on your own servers or consume as a service from a private cloud service provider. Skype for Business Server is the "full fat" product with all the features. And thanks to a rich set of APIs, Skype for Business Server has the ability to integrate with 3rd party applications such as Contact Centre and Recording. Skype for Business Server 2015 was the first version after Lync 2013 Server. The new version, Skype for Business Server 2019, just became generally available a few weeks ago.
Skype for Business Online is hosted as a public cloud service by Microsoft as part of Office 365 and Microsoft 365. Skype for Business Online is a multi-tenanted version of Skype for Business Server, built on the Hosting Pack codebase. Skype for Business Online doesn't have all of the same features as Server, this is because of the way Lync and Skype for Business Server are architected. Some things, like Response Groups and Dial Plans, don't scale to hundreds of thousands of users. This is why, for the longest time, Skype for Business Online didn't have telephony features. Microsoft overcame these limits and delivered "Cloud PBX" (now called Phone System) as an add-on. This add-on isn't delivered using native Skype for Business code, but rather as a Micro Service. I mention this because this same Micro-Service is being adapted and migrated from Skype for Business Online to Teams.
The Future of Skype for Business
It is worth noting that Skype for Business Server will live on for at least this current version and probably for a version or two after that. The same can't be said for Skype for Business Online, however. Microsoft let it slip announced that Skype for Business Online was being "upgraded to Teams" just ahead of Ignite last year.
They quickly retracted that statement in a panic, so they could figure out how to explain it better. The official line is that there is no end date for Skype Online planned, at least publicly. Microsoft won't want to be maintaining two platforms for long though. In fact, they are starting to push people to Teams.
Microsoft has to get as many companies to want to change to Teams as possible and they are starting with the low hanging fruit. They are also making a big song and dance about larger companies that have decided to take the plunge, including themselves.
They started in October setting up new small (sub 500 seat) M365 tenants in Teams Only mode. Although, a couple of PowerShell lines and you can go back to Skype Only or Islands mode.
They also just sent an announcement to some small seat tenants that their users would be migrated to Teams unless they hit postpone. I'll assume this is the same as above where you can change it back yourself if you want.
I doubt Microsoft can just decide to turn it off completely for all. Surely there will be resistance by some. All it takes is a very large org to threaten pull the plug on M365 and go elsewhere because of this to make Microsoft change their minds, or set up some kind of provision for the stalwarts. But if someone really wants to keep using Skype for Business with or instead of Teams, they can just migrate back to Server.
Messaging
Messaging, or instant messaging (IM), is a quicker way to get an answer to a question. You can ask that question to one or more people and each IM appears as one conversation. Once you've finished your conversation, it saves to a folder in Outlook for future reference. You can also enrich an IM conversation by adding screen-sharing and by escalating to voice or video. Lastly, federation enables your internal colleagues to have conversations with external contacts.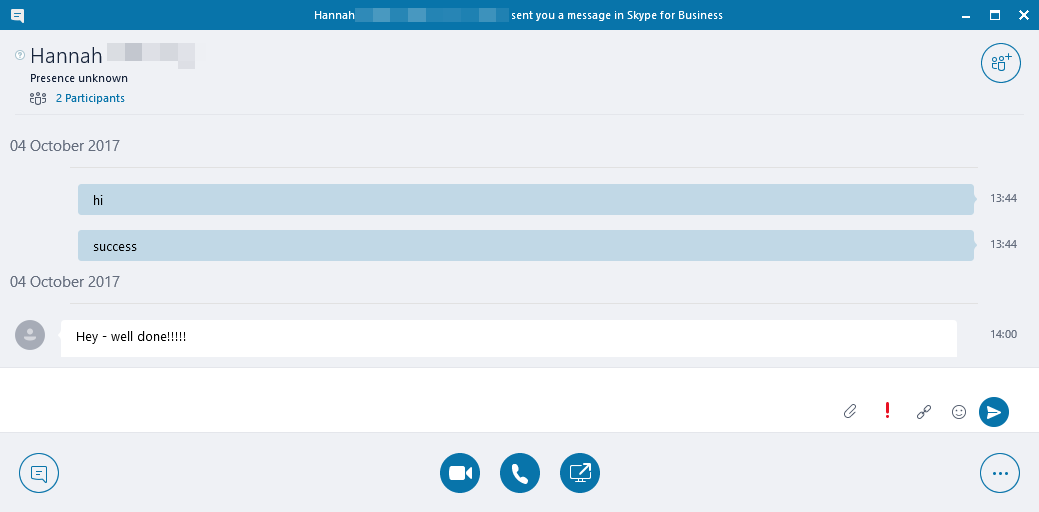 Meetings
Meetings are pre-planned events scheduled in Outlook with one or more people. People join meetings using the Skype for Business client, a web browser, mobile app, dial-in or from a meeting room system. During meetings, it is possible to add voice, video, content such as a screen or PowerPoint share and IM. You can also add polls, questions, and answers to meetings to collaborate and get feedback.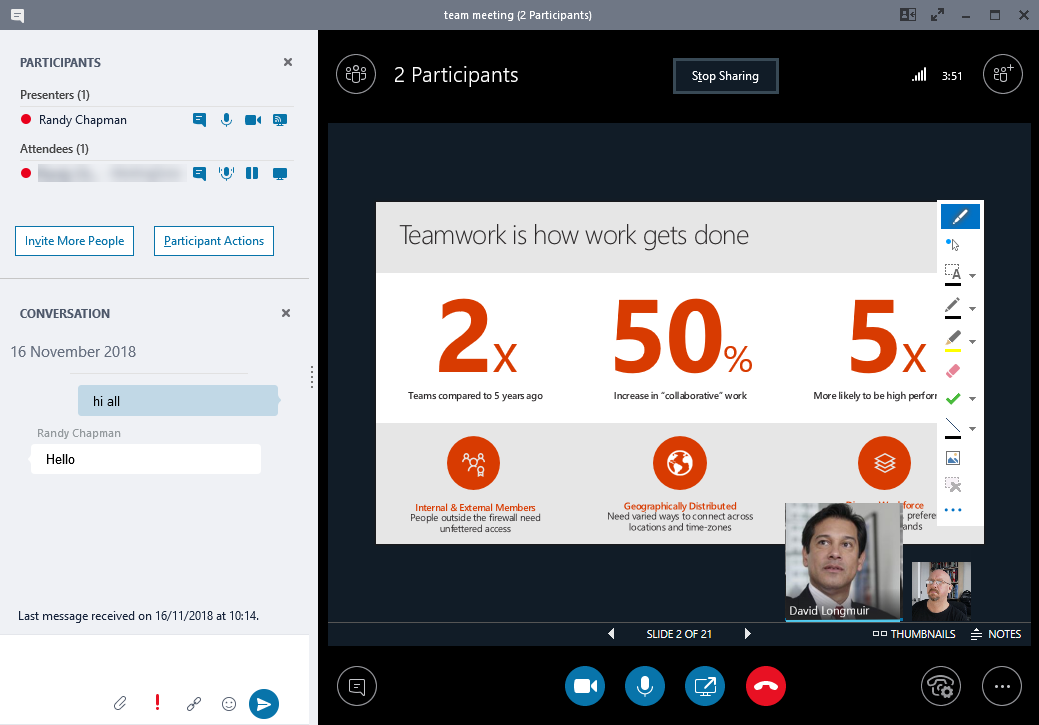 Voice
When I say voice, I mean Private Branch Exchange (PBX)-like telephony features. Such as, the ability to make and receive a call from the Public Switched Telephony Network (PSTN). Inbound calls can route to a users' direct line or to an Interactive Voice Recording (IVR) or a hunt group where calls can queue for available 'agents'.
Offering all three in a single client is what's known as Unified Communications (UC). Skype for Business is a communications tool first, although collaboration is possible, it isn't the star of the show. The Persistent Chat (role) is an attempt at 'many to many' collaboration, that, and co-authoring of documents stored in Sharepoint.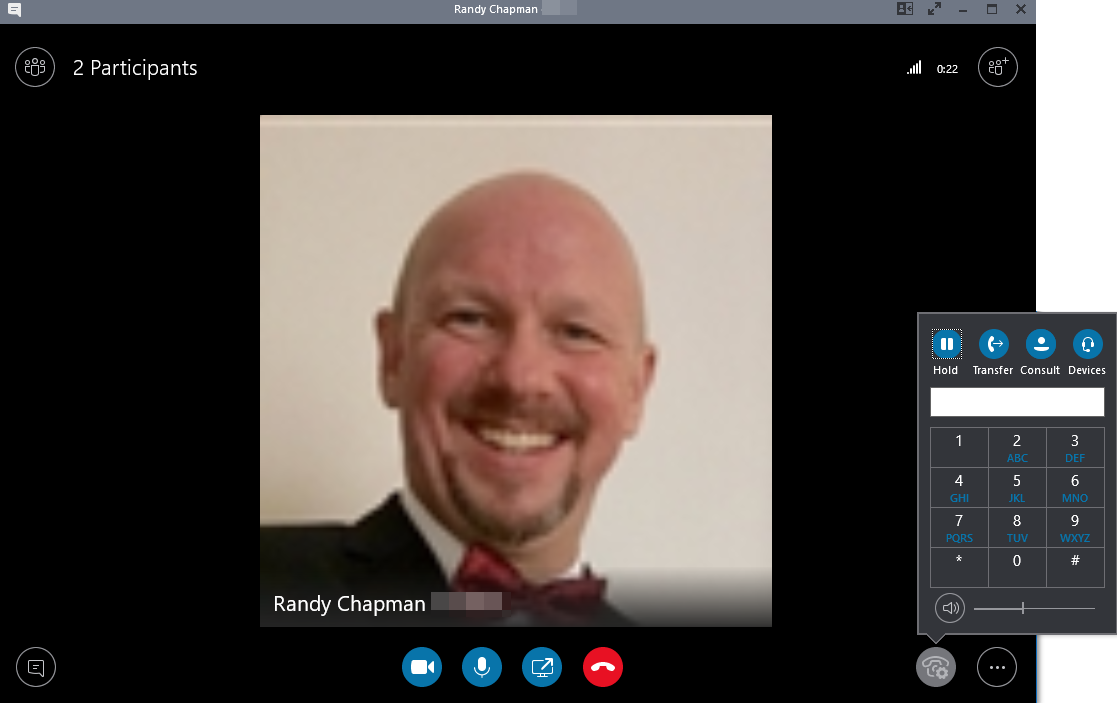 Microsoft Teams
Teams was Microsoft's answer to Slack, a product they considered buying a year before Teams reached general availability. Rather than acquiring another company, Bill Gates said Microsoft should focus on improving Skype for Business instead. So Teams was built from the ground up with an emphasis on team-based collaboration.
If you think about those three pillars of messaging, meetings and voice. They're also possible in Teams, but offered in a slightly different way.
Messaging
There are two types of Messaging in Teams. There is peer-to-peer Chat, which is more like iMessage or WhatsApp than Skype for Business Instant Messaging. And there is Group Chat which occurs inside a team or a Channel within a team.
A Chat is one long thread of dialogue between users. Each Chat has a conversation tab with the dialogue, a files tab – used as a repository for any files you add to the conversation, and an organization tab that contains the org chart information (if available). In addition, the activity tab shows you all recent activity you've had with that user in other parts of Teams, you can also add your own customizable tabs.
Like Skype for Business, you can escalate a chat to voice, video or both from inside the chat. If you do, that call gets added to the history of the chat. You can also initiate a screen sharing session from a chat without escalating to voice or video. If you attach a file it uploads it to the users' SharePoint and you'll see the file listed in line with the dialogue, you can open the doc in Teams with the chat dialogue along the side. If you want to add richness to your chats, this can be done in the form of Emoji, GIFs from Giphy, Stickers, and Memes. In addition, Microsoft has also added in the option to add apps to Teams chats. For instance, by adding the YouTube app, you can search YouTube for something to add to the chat, it not only adds a link but a preview or the content and the ability to play it back from within the Teams chat. I could go on and write a whole post on Chat in Teams. I'm sure you'll agree, this is a long way from Skype for Business Instant Messaging.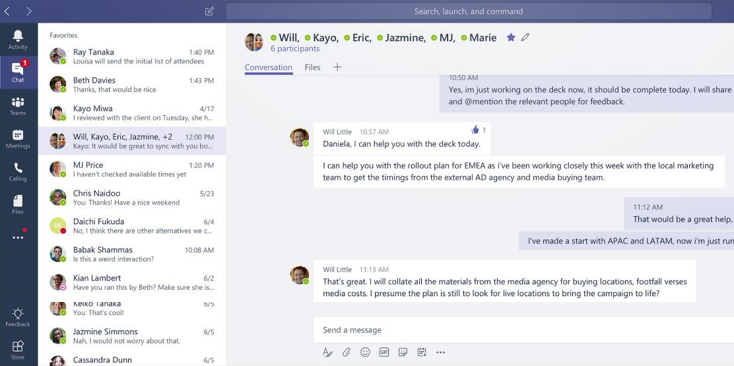 Group Chats in Teams are vastly different to the Persistent Chat role in Skype for Business. Teams Group Chats are persistent and threaded Conversations between a team of users in your organization. They occur in a team or channel which means the whole team can discuss topics that are relevant to the context of the team or channel. Threading means that there can be multiple conversations, or threads, inside the tab. It's possible to @ mention the whole team to ask everyone a question or target one or more users directly. If you get mentioned in a Group Chat you get alerted and a record appears in your activity feed. Clicking on the alert will take you right to the thread where you were mentioned so you can catch up on the context and reply in-line. Just like peer-to-peer Chats, Group Chats also get the rich text editor, Emoji, Gif's, Stickers and Memes. You can upload files, chat about them and even co-author them right inside Teams. You can also escalate a Group Chat to a meeting using the meet now button. Group Chats do go on forever which could sound a bit unwieldy to some, but Teams has some cool features to help you find what you're looking for. One of my favourites is that threads are sorted by activity level, this means that active threads always appear at the bottom of the conversations tab and are filed by the date they were last active. You can also search in Teams to find a thread you want to go back to if you reply to that thread you make it active again. When you're are all caught up on a thread you can collapse it which helps when scrolling up and down to read other threads.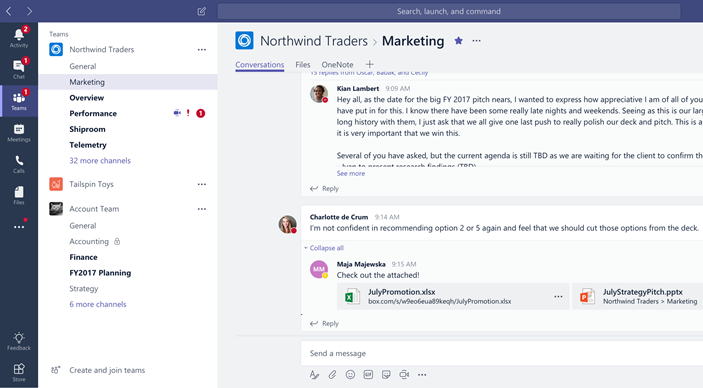 Meetings
Meetings in Teams are also very different from meetings in Skype for Business. You can schedule a meeting from within a chat, a Team or the meetings app inside Teams. You can also schedule meetings in Outlook using the Teams add-in, in exactly the same way you can with the Skype for Business add-in. Attending the meeting is where the capabilities start to pull away from Skype.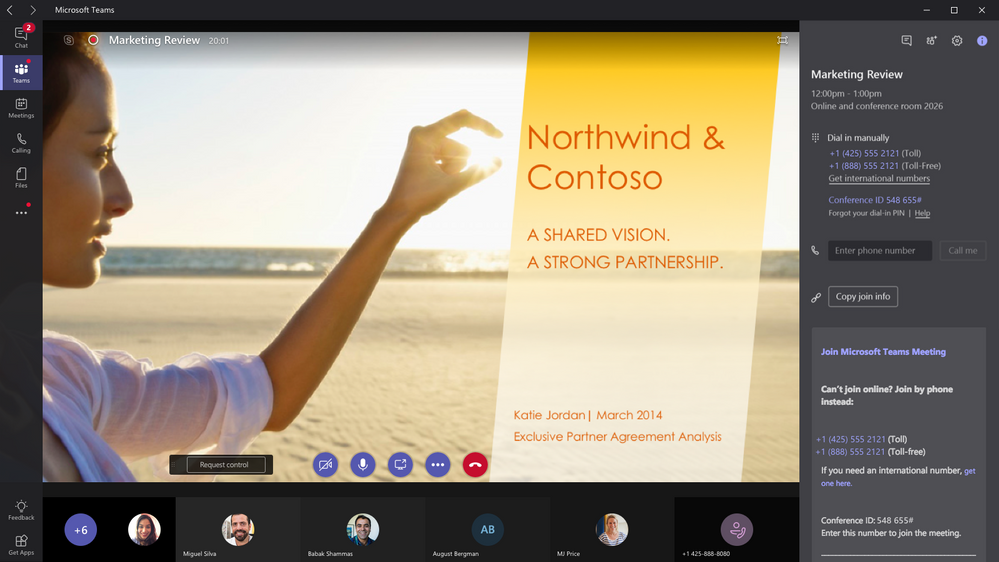 Joining a meeting in Teams is straightforward. You can use the join link in the reminder or in the meetings app inside Teams, once you're in the meeting you can connect your audio and video device. You can also change either device at any point during the meeting, for instance, if you wanted to move to another webcam or headset. If you need to go, you can join the meeting from your mobile and create a second connection into the meeting meaning you're then able to switch your audio, shut down your laptop and off you go. If you're at a PC that doesn't have the Teams app, you can join from a web browser.
The big difference is that there are no plugins required to join and get the full meeting experience. Presenters in the meeting can share their desktop or a single app, upload and share a PowerPoint, or collaborate using a third-party whiteboard app. You can do all this whether you're using the desktop client, a web browser or the mobile client.
The experience is similar in all three. You can meet with internal colleagues, external, federated, contacts or anonymous participants. Again, they can join using a web browser with no plugins. I'm sure all that sounds great, but it gets better.
You can record meetings. Meeting recording uses Stream in Microsoft 365 for processing and storage. Meetings also get transcribed in Stream which gives you the ability to translate the text in real time. Once the meeting finishes you can play it back right in the Teams app. You can even search the meeting transcript for keywords, such as your name to get a list of your actions.
Another great new feature is background blur. This is the ability to mask and blur everything behind you so your colleagues can focus on you instead of your kid's drawings.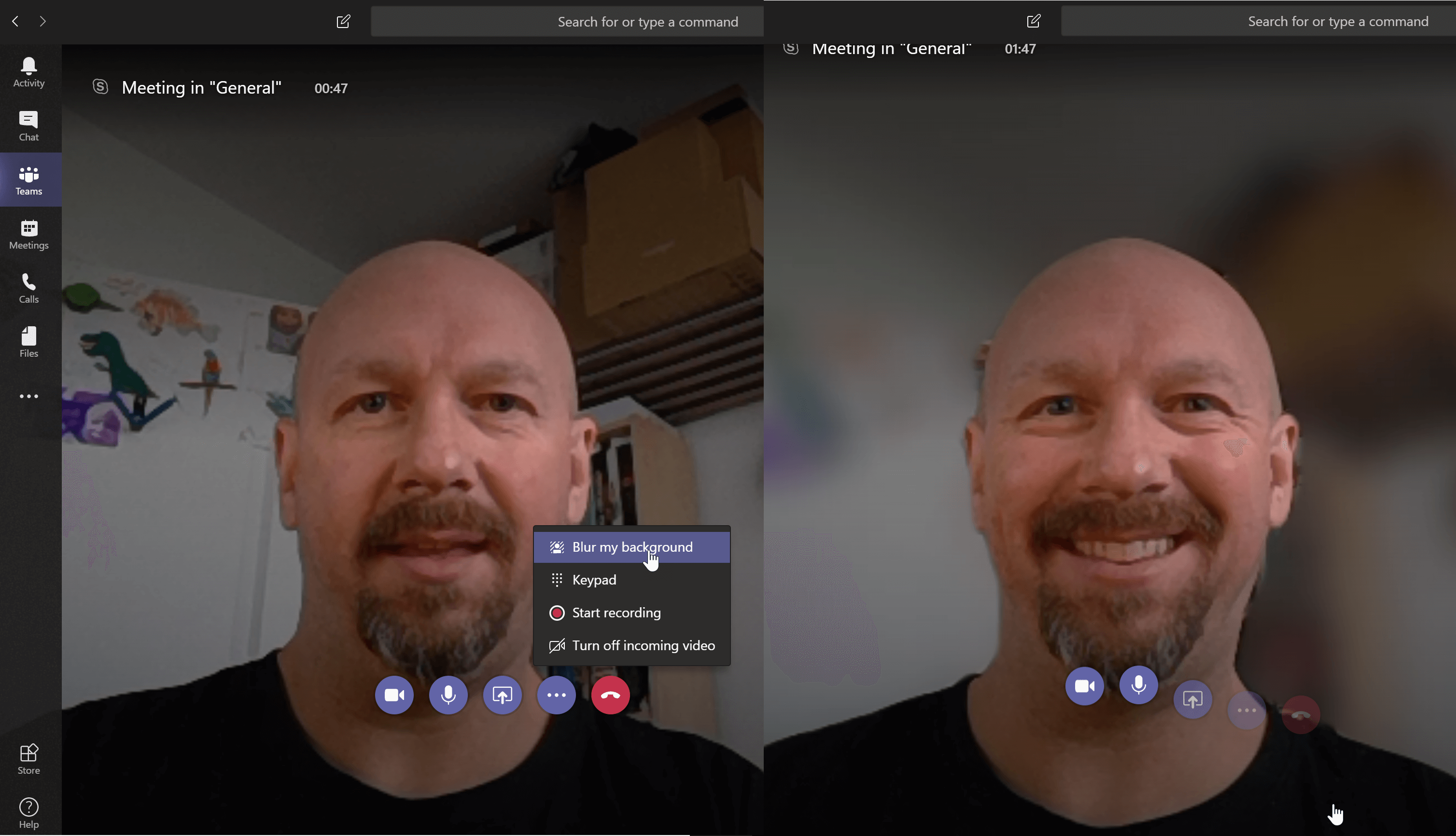 If normal meetings aren't enough, you can schedule Live Events in the same way. Again, I could go on, but I won't. You get the idea.
Voice
Voice in Teams is also a little different to Skype for Business. Internal or federated calling is largely the same, it's when you get to PSTN calling that the changes appear. Teams uses the Phone System add-on in Microsoft 365 like Skype for Business Online. To connect Teams to the PSTN you can add Calling Plans where they are available. Or, if you can't get calling plans or you want to use your existing lines you have another option. Teams has a feature called Direct Routing, this gives you the ability to connect Teams to your existing lines or PBX using only a Session Border Controller (SBC). Skype for Business Online, by comparison, requires Skype for Business Server or "Cloud Connector Edition" to connect to the Session Border Controller (SBC). This difference is huge because it cuts down on a lot of the cost and complexity of setting up "on-premises call handling".
Embrace and Prosper
Now, if you're just comparing those three pillars, I think you'll agree that Teams is way ahead in the scoring. I've only just scratched the surface on the collaboration features in Teams. Persistent Chat in Skype for Business doesn't even come close to what you can do in Teams. Then there's the ability to extend Teams using third-party connectors and apps. Now, Skype for Business is so far behind it's not even funny anymore.
Sure, Skype for Business Server can integrate with third-party apps like contact centres and call recorders, but that's coming to Teams. Sure, federation is a little better in Skype for Business right now, but I know it will get better in Teams.
The biggest difference between Skype for Business and Teams is you, the user. If you've used Skype for Business for a long time, you'll notice little differences and they might seem big to you. If you haven't and you start off using Teams you won't. You'll just appreciate Teams for what it is and what it does. You won't get bogged down on differences, because as far as you're concerned, there aren't any. By all means, keep pushing Microsoft to improve Teams but do it the right way (in UserVoice). Complaining won't help anyone.
Teams is Replacing Skype for Business – Are you Ready?
There's a major shift coming up for companies using Skype for Business, and whether they're ready or not, Microsoft Teams will be taking over. There has been a lot of improvement since Teams first rolled out, and Microsoft announced they would be phasing out Skype. The roadmap for this integration is complete, and Teams is now the go-to solution for collaboration services. However, we know that with this big shift companies will inevitably have questions and concerns. What is the future for Skype? Can the two tools coexist? What does this transition mean in terms of licensing? Not to fear—Interlink is here to guide you through the transition and answer any questions you may have. Here are some common questions and concerns that we've seen.
Why is Microsoft replacing Skype with Teams?
The workplace is ever-evolving and changing – with a shift to a more collaborative workspace, Teams fills the void of needing a tool that seamlessly integrates communication into a single place. Microsoft has brought the capabilities of Skype and added them with additional features into Teams, like fully integrated voice and video. Teams also integrates communication tools with applications becoming more intelligent with Artificial Intelligence (AI), Microsoft Graph and LinkedIn to enhance work meetings. While there is no end of support date for Skype at this moment, Microsoft's vision is focused on Teams. There is no need to panic if you don't have a migration strategy in place…today.
What are the Benefits of the Back-End Infrastructure?
Teams is built for the cloud on a highly scalable microservices architecture that's efficient in bandwidth consumption and allows for upgrades with little to no disruption. This means that users will experience faster meeting join times and better browser experience without having to download plug-ins. This infrastructure is more modern and makes it easier to tap into Microsoft Cognitive Services – like transcription, speech recognition, matching learning capabilities, and translation – which all together promotes better, more effective communication and collaboration.
Teams is available in the standard Office 365 suite Licenses. Premium capabilities in Skype will continue to be premium workloads in Teams as well, and customers who made existing licensing investments will carry forward those investments into Teams. For example, if you have purchased Phone System and Calling services for Skype, they will also be enabled within Teams at no additional cost.
The features mentioned above – Audio Conferencing, Phone System and Calling Plan will remain as add-on licenses.
Audio Conferencing is included if you have the Office 365 E5 plan or will be a $4.00/user/ month add-on fee if you have the Office 365 E1 or E3 plan.
Phone System is included in the Office 365 E5 plan or sold separately for $8.00/user/month and enables call control and PBX capabilities in Office 365 to replace on-premises telephony hardware.
Users can then get a phone number and a phone line two different ways.

Direct Routing – allows for Teams to connect back to a company's on-premise location and utilize an existing connection like a SIP trunk.
Or users can subscribe to a calling plan. Calling Plans are not included in any of the bundles. Calling plans basically, provide carrier services to the Cloud PBX users who don't want to use direct routing. This is especially good for small businesses, remote locations with a small number of users, or those companies that don't have an office at all. Pricing for Calling Plan is showcased below:

How do Upgrades Work and What happens after the Migration to Teams?
As current Skype customers, a complete transition will take some time, but you can start the journey by enabling your users to use Teams alongside Skype. To formally prepare, it's necessary to start planning for upgrade scenarios that will allow your organization to embrace Teams as its central hub for communication.
Once users are upgraded to Teams, there is no need to disable Skype for Business. You can simply switch to "Teams Only" mode, and all chat, meetings, and phone calls will go to the Teams client. Any meetings scheduled through Skype before the upgrade will still work as designed, but new meetings will be scheduled in Teams. If users attempt to sign in to Skype, they'll receive a notification from their client that they have been upgraded. Users can also install the Teams mobile app to receive notifications on their phone.
Can Teams and Skype Coexist during the Upgrade Period?
These two applications can coexist but it's important to understand how they work alongside one another, when and how they interoperate, and how to manage the migration to an eventual full upgrade. Depending on how your organization deploys Teams, some capabilities will overlap. The default mode is to run Teams and Skype together, but a user can be assigned a coexistence mode to ensure capabilities will not overlap for users. These modes include:
Islands Mode – In this mode, users can run Teams alongside Skype as two separate solutions with overlapping capabilities. Each of the client applications operates as a separate island. Skype for Business talks to Skype for Business, and Teams talks to Teams. Users run both clients and can communicate natively in the client from which the communication was initiated.
Skype for Business Only – In this mode, users remain in Skype for chat, meeting and calling capabilities and do not use Teams.
Teams Only – In this mode, users purely use Teams for communication and can only access Skype to join an existing Skype meeting or a meeting that has been organized by a non-upgraded user or external party.
Upcoming Modes (Preview Release Only)
Skype with Teams Collaboration – In this mode, you leave Skype for Business unchanged with chat, calling, and meeting capabilities and you add Teams collaboration capabilities—teams and channels, access to files in Office 365, and applications. This is similar to Islands Mode, but organizations with a starting point of Skype for Business server on-premises or hybrid should use this mode instead.
Skype with Teams Collaboration & Meetings – In this mode, private chats, voice and video calling remain on Skype but users use Teams for meeting capabilities. This enables users to take advantage of Teams new capabilities such as translation and transcription. It is especially useful for organizations that will take some time being fully upgrades but want to benefit from Teams meetings.
* Updated note for upgrade modes Skype with Teams Collaboration and Skype with Teams Collaboration & Meetings – Testing of these two modes have revealed bugs in the coexistence between Skype and Teams. These two modes have been pulled back by Microsoft and it has been recommended to treat these two modes as a preview release for now.
Conclusion
I hope this has helped! If you have any further questions in regards to Skype for Business, please let us know and we will be more than happy to help.

Additionally have a look at our Telephony Services or O365 for more information of our services. We can discuss Office 365 solutions as well as potential phone systems if you don't require video conferencing.